mr. RAY (Ray Andersen) is one of a new breed of artists under the genre name of KINDIE MUSIC (Kid + Indie). This is a genre trying to find it's way into mainstream America for children 2-8.
mr. RAY was a top-10 best-selling kids' artist according to Billboard Magazine in 2013 & 2014's ... link
He has been writing and performing under this name since 1994 - but that is only part of the story. He grew up in West Orange, New Jersey in the home that legendary songwriters
Carole King and Gerry Goffin lived and where most of the "Tapestry" album was written.
Ray's love of music was apparent at an early age when he was introduced to The Beatles. Eventually the bug of songwriting hit him hard. Along the way,
he went on to the famed American Academy of Dramatic Arts in NYC, which further emboldened his love of the arts.
In the 80's, Ray went onto a very important journey in life as a member of the notable Asbury Park NJ, Stone Pony house-band,
"Cats On A Smooth Surface." Bruce Springsteen played withRay and the band so much,
he often raved to the press that they were his favorite group of musicians to jam with when he was off tour.This experience led Ray to
years of performing and touring with the likes of Meat Loaf, Bon Jovi,
matchbox twenty and his own original band, Blue Van Gogh. All these experiences led him to the musical galaxy of mr. RAY...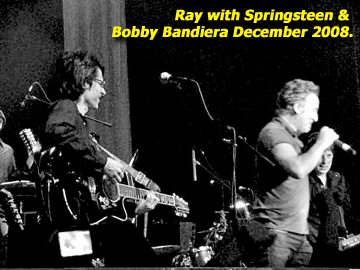 He was signed to Universal Music TV (UMTV) from 2007-2010 and toured the UK.
Ray's original music program, 'Songs for Seeds', was voted the
Best Music Program For Kids 2010 in NYC by New York Magazine. Licensed via Apple Seeds indoor playground in NYC,
it's currently franchised throughout Manhattan, Brooklyn, New Jersey, Dubai & India.
Ray's adoption song, "Born From Our Heart" is a heartfelt tribute to being an adoptive parent. In 2004, Ray & his then wife, adopted a newborn girl they named Layla. =-)
The song has been a staple on Sirius/XM Radio's KidsPlace LiVE.
His song "Make The World Safe" has been played on that station nearly every day for several years.
On March 19th 2009, mr. RAY was invited to sing at the United Nations in NYC for an event called A Season for Non-Violence.
He was backed up by 15 children singers, performing John Lennon's 'Imagine' 'Give Peace a Chance' and two originals, 'Music's A Language' and 'Make The World Safe.'
Ray continues to perform weekly in the tri-state area at private parties as well as national events like Austin City Limit's Austin Kiddie Limits and Major League Baseball Fan Fest.
Ray's songs for kids are the backdrop for many, many  TV commercials such as Nike Golf. In January 2011, he landed a national singing spot, singing the classic,
This Magic Moment, for the Publisher's Clearing House TV commercial and in July 2012 recut and sang the James Taylor gem, How Sweet It Is, for Publisher's Clearing House.
Many magazines and assorted press clippings are here...LINK
In August 2012, Ray signed a book deal with Peek-A-Boo publishing. The first title will be based on his Roy G Biv song called Find Your Music. The author is Don Hoffman who's sold
over a million books as a prolific children's author and it will be illustrated by Todd Dakins. The book, to be released in 2015, will contain a
CD of Ray's songs and will be the first title in a series of mr. RAY Storyteller Books.
Ray Licenses Original Songs to Ematic's Kid-Safe Tablet
Ematic, a really cool technology/electronics company, released a fun & educational kid-safe tablet called the FunTab pro...totally for kids...
and they licensed 15 original mr. RAY kid songs....
LINK
Ray's latest project is comprised of songs & videos addressing non-bullying & teaching tolerance.
Maintaining a melodic pop sensibility but with a slight urban edge, targeted towards the Tween demo, 9-12.