THE JOURNEY TOWARDS MAKING MUSIC FOR KIDS . . .
Ray Andersen grew up in the house that legendary songwriters, Carole King and Gerry Goffin lived in...LINK
Upon an older cousin turning him onto the Beatles, and discovering from there the beauty of great songwriting,
Ray was inspired at a very early age to start singing, playing piano, guitar and drums, and start crafting his own songs-without a single lesson.
His dad told the family that they'd be moving into the home of the legendary singer/songwriters, in West Orange, New Jersey.
It is the house where Carole King wrote most of Tapestry, and she and Gerry Goffin wrote the hit song, Pleasant Valley Sunday,
for the Monkees. Pleasant Valley Way runs right through West Orange and the song's lyrics summarize suburban life, and mentions neighbors on Ray's street.
Besides having his Rock and Roll idols and inspirations, Ray was always attracted to the zaniness of TV/movie personalities & entertainers like Danny Kaye,
Jerry Lewis, Monty Python, Dick Van Dyke, etc. Ray describes it as, "...keeping one foot in childhood, and one foot in the grown-up world…
it's a delicate balance." Seeing these personalities prompted Ray to start acting in local productions and studying at New York City's famed, American Academy of Dramatic Arts.
For much of the 80s, he was a member of the notable Asbury Park NJ ,Stone Pony house-band, Cats On A Smooth Surface.
Bruce Springsteen played with Ray and the band so much, he often
raved to the press worldwide, that they were his favorite group of musicians to jam with when he was off tour.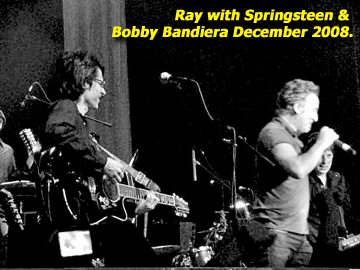 In 1995, Ray formed a pop/rock duo, Blue Van Gogh, and released an album called Hi-Fi Junkie Sonata,
distributed by Edel Records. The music & and video was met with international acclaim.
They toured throughout Germany as the opening act for matchbox twenty in April of 1998.
Ray even had the opportunity to be in Chuck Berry's band for a gig in South Dakota in 1996.   LINK
In 1994, Ray was asked to come in and perform at a pre-school 
In no time, he became known as "mr. RAY," holding an eye-catching, colorfully-stickered guitar.
The kids (and Ray) were quickly hooked.
Singing about friendship, dinosaurs and rainbows never sounded so cool before…
In 1998, Ray got a call to play guitar, keyboards & sing backup for international rock star, Meat Loaf. Besides giving him the
thrill of performing in some of America & Europe's greatest venues, Ray, as part of Meat Loaf's band, did a lot of TV such as
David Letterman, Jay Leno, Top Of The Pops, TGIF, VH1's Storytellers, Hard Rock Live and many more. In October of 1999,
the #1-rated VH1 Storyteller episode of all time, Meat Loaf's, went on the road through 2000,
& Ray along with Mr. Loaf can be seen forever preserved on the Storytellers DVD and CD
.

Ray wrote and co-produced his own album entitled, Start Dreaming! It was released in April 2001.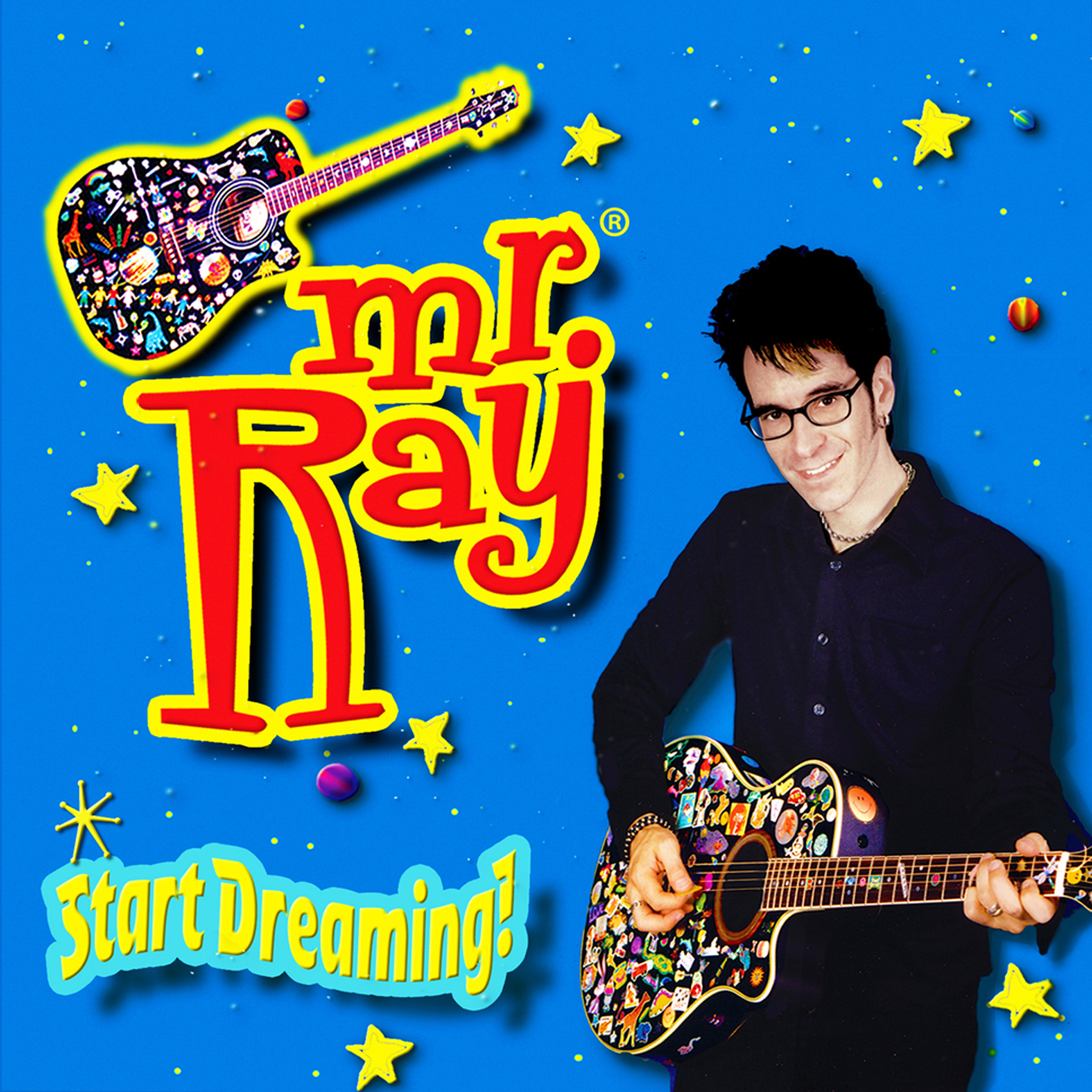 The Wall Street Journal profiled him on the front of one of their Marketplace section, with a color photo, as well.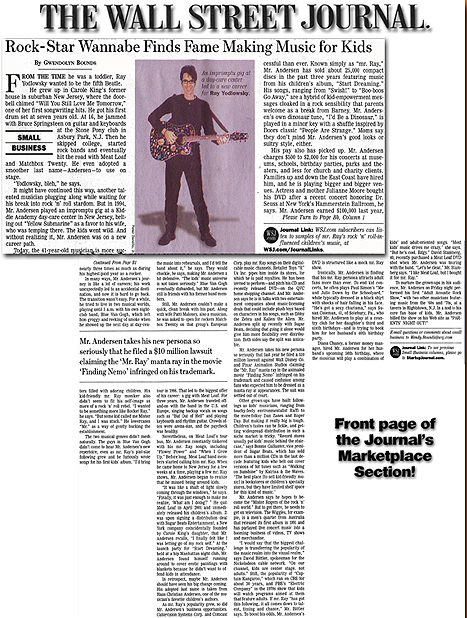 In 2005 he was on AMC's reality-based series, Into Character, where he portrayed (as himself) a rock guitar instructor on the La Bamba
episode. mr. RAY has also appeared on QVC and sold his DVD and Start Dreaming CD. Ray's second kids' album,
Songs From The Kids' Lounge was released in October 2004. The third mr. RAY album, Family Ride was released November 2006.
His 4th album was released in May 2009.
On December 6th 2006, the first-ever mr. RAY commercial aired on NICKELODEON & CARTOON NETWORK in the US.
In March 2007, Ray signed with Cool Kids Music based in London. His products are now sold in many retail stores there.
In May '07 and February '08, he toured throughout London. In May 2008, Ray signed with Universal Records UK.
The fifth album was released in 2010 and called Welcome To The Music Room.

Ray has sold well over 100,000 CD's of his kids' albums, and all of his kids' classic public domain songs, over 150 of them,
are currently available in Walmart, Best Buy & Dollar General stores nationwide....

He was signed to Universal Music TV (UMTV) from 2007-2010 and toured the UK.

Ray's original music program, 'Songs for Seeds', was voted the
Best Music Program For Kids 2010 in NYC by New York Magazine. Licensed via Apple Seeds indoor playground in NYC,
it's currently franchised throughout Manhattan, Brooklyn, New Jersey, Dubai & India.

Ray's adoption song, "Born From Our Heart" was one of the first kids' songs to set a precedent
by combining an adult theme within children's music. The song has been a staple on Sirius/XM Radio's KidsPlace LiVE.
His song "Make The World Safe" has been played on that station nearly every day since 2010.

On March 19th 2009, mr. RAY was invited to sing at the United Nations in NYC for an event called A Season for Non-Violence.
He was backed up by 15 children singers, performing John Lennon's 'Imagine' 'Give Peace a Chance' and two originals, 'Music's A Language' and 'Make The World Safe.'
Ray continues to perform weekly in the tri-state area at private parties as well as national events like Austin City Limit's Austin Kiddie Limits and Major League Baseball Fan Fest.
Ray's songs for kids are the backdrop for many, many  TV commercials such as Nike Golf. In January 2011, he landed a national singing spot, singing the classic,
This Magic Moment, for the Publisher's Clearing House TV commercial and in July 2012 recut and sang the James Taylor gem, How Sweet It Is, for Publisher's Clearing House.  
As of 2015, he continues to provide many of the songs tor their TV commercials,such as a re-record of the Hall & Oates' classic, YOU MAKE MY DREAMS COME TRUE.


In August 2014, Ray signed a book deal with Peek-A-Boo publishing. The first title will be based on his Roy G Biv song called Find Your Music. The author is Don Hoffman who's sold
over a million books as a prolific children's author and it will be illustrated by Todd Dakins. The book, to be released late 2015, will contain a
CD of Ray's songs and will be the first title in a series of mr. RAY Storyteller Books.

Ray Licenses Original Songs to Ematic's Kid-Safe Tablet
Ematic, a really cool technology/electronics company, has just come out with a fun & educational kid-safe tablet called the FunTab pro ($150)...totally for kids...
and they licensed 15 of my original mr. RAY kid songs....

Ray's newest collection of songs is now available on iTunes...called NO ROOM FOR BULLIES.
It's a music/video/live show project that addresses non-bullying while inspiring kids to be tolerant of each other's differences.
NO ROOM FOR BULLIES is a cross-promotable new vehicle in driving a message of love to kids,
tweens and teens. In this time of change, NO ROOM FOR BULLIES is an imperative theme of kindness that the world is ready to embrace.
photo by cindy ferrier