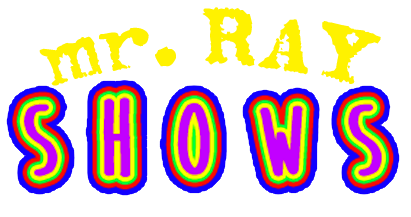 mr. RAY performs the first Friday of every month at Princeton Forrestal Village (except Jan 2015!)...see info below...
J A N U A R Y 2015
Friday January 9th 6:30pm
PRINCETON FORRESTAL VILLAGE
Rt 1 Southbound (In the food court)
Princeton NJ
FREE

Saturday January 17th 2015 12:30pm
LIGHT OF DAY KIDS SHOW Benefitting Parkinson's Disease
starring
mr. RAY w/special guest Layonne Holmes and the Little Sunshine Kids
Yosi
Miss Sherri
Yoga for kids & face painting with Leslie Miller
Special guests to be announced…
Doors open at noon
Mcloones Supper Club
100 Ocean Ave
Asbury Park NJ

Wednesday January 21st 6:30pm!
SOUTH PLAINFIELD LIBRARY
(908) 754-7885
Please NOTE:
This event will be held at the South Plainfield Senior Center
90 Maple avenue South Plainfield NJ

PARENTS NIGHT OUT!
F E B R U A R Y
Sunday February 15th 2pm
HIGHLAND PARK PUBLIC LIBABRY
31 North 5th Avenue,
Highland Park, NJ 08904
732-572-2750
FREE!