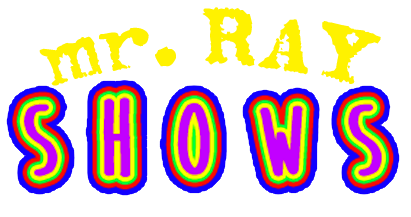 Friday June 5th 6:30pm
PRINCETON FORRESTAL VILLAGE
Rt 1 Southbound (In the food court)
Princeton NJ

Saturday June 6th 2015 11am
KIDZSTOCK
The festival will take place at the Honesdale High School track field.
Admission is $5 per child and $3 for each adult; children 1 and under are free.
For more information, contact Milicent Wightman,
Director of Creative Beginnings Learning Center at 570-253-1404

Monday June 22 2015 4:30pm
Elizabeth Public Library
102-110 Third Street, Elizabeth, NJ
FREE!

Tuesday June 23 2015 6pm
MILLTOWN PUBLIC LIBRARY
20 W. Church St
Milltown NJ 08850
732-247-2270

Wednesday June 24th (rain date June 25) 2015 7pm-9pm 2 full sets!
WARREN TOWNSHIP PRESENTS
mr. RAY Show w/full band & kid singers
Performing kids songs & warm n' fuzzy classic rock family songs!
46 Mountain Blvd (off of Bardy Rd)
Warren NJ
Bring your chairs & family!
An ice cream truck will be there!
F R E E !

Monday June 29, 2015
Tim Mccloones Radio Show
Asbury Grille (bottom restaurant of the Supper Club)
I'll be speaking mainly about my soon-to-be-released music/video/assembly project
NO ROOM FOR BULLIES -
and perhaps about my time in the Asbury Park music scene over the years....
If you'd like, you can come by and check it out - there's no admission.
I'll be singin a song or 2....Come & enjoy their food & have a drink.
Thank you!

July 2, 2015 5pm
Highland Park Fireworks In The Park!
Donaldson Park Highland Park NJ
FREE!

Friday July 3rd 6:30pm
PRINCETON FORRESTAL VILLAGE
Rt 1 Southbound (In the food court)
Princeton NJ

July 4th 2015
Milltown NJ 4th Of July!
Parade starts at 10am on Saturday, July 4th, 2015.
mr. RAY plays at 12pm!

July 15, 2015 through July 19, 2015
Carnevale Italiano – North Brunswick, NJ
mr. RAY performs at 6pm
Route 130 north and Apple Orchard Lane in North Brunswick.
There will be food, games, rides and entertainment nightly. Wednesday, Thursday, Friday and Sunday will be wristband nights.
A fireworks display is set for 10 p.m. Saturday.

Thursday July 23rd at 11am
JCC of Staten Island
1466 Manor Road
Staten Island, New York 10314

Wednesday July 29th 2015 7PM
LBIF (Long Beach Island Foundation)
120 Long Beach Blvd,
Loveladies, LBI
This is a show for members & non-members alike!
To promote the arts and sciences on Long Beach Island and in the
surrounding communities by enlightening, educating, and stimulating
thought and discussion about current trends in the arts and sciences
and by providing broad educational and cultural programs for all ages.

Join my email list! Thanks....
foxyform