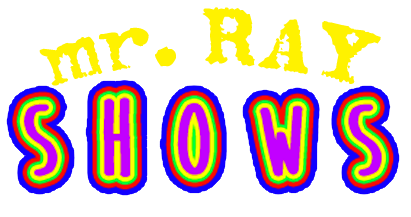 Friday July 1 6:30pm
PRINCETON FORRESTAL VILLAGE
Rt 1 Southbound to Rockingham Row (In the food court)
Princeton NJ
I'll be selling & signing copies of my 1st book for kids....FIND YOUR MUSIC! :-)
Free!

Saturday July 3 2016 5pm sharp
Highland Park Fireworks In The Park
Donaldson Park
Highland Park NJ
Rain date: July 10th

Monday 4th of July 2016
Milltown Borough Park
80 Violet Terrace
Milltown NJ, 08850
mr. RAY performs at 12:30
Parade kicks off at 10:00am. Opening ceremony at 12pm,
In addition to various activities at the park the participants can enjoy
free music, hot dogs and soda. Additional food
vendors with food available for purchase. Info: (732) 828-2100

Thursday July 14th 6:30pm
CARNIVALE ITALIANO
Route 130 and Apple Orchard Road,
North Brunswick NJ
FREE!

Friday 15th 2016 7:00 PM
WOODLOT PARK
124 New Road
South Brunswick NJ
FREE!
RAIN LOCATION:
Community Center, 124 New Rd. Monmouth Junction

Tuesday July 26 2016 7pm sharp
Long Beach Island Foundation of the Arts and Sciences
120 Long Beach Blvd
Long Beach Township NJ 08008
Fee: $10 Fee with Member Discount: Free


PLEASE NOTE

There will be no Princeton Forrestal Village show in August, but I will return on September 2.... :-)


Tuesday August 2 2016 6:30pm
South Plainfield Library
2484 Plainfield Avenue,South Plainfield, NJ 07080
908-754-7885

Wednesday August 3 2016 10:30am
Hickory Corner Library
138 Hickory Corner Road
East Windsor, NJ 08520
609-448-1330

Thursday August 11 2016 7pm
East Brunswick Summer Concert Series
Location for all concerts is the Community Arts Center at 721 Cranbury Road
FREE and open to the public.
Bring your own lawn chairs and picnic blankets

Saturday August 20 2016 2-4pm
Palmer Square Summer Concert Series
On the Green
FREE and open to the public.
Bring your own lawn chairs and picnic blankets
Join my email list! Thanks....
foxyform