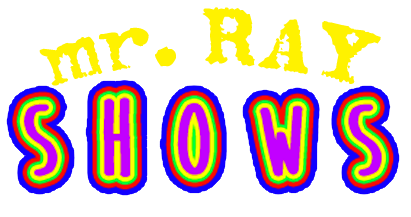 mr. RAY performs the first Friday of every month at Princeton Forrestal Village...see info below...
N O V E M B E R
Thursday Nov 6 11am
Friends of the New Providence Memorial Library presents mr. RAY
in the gym at the New Providence Municipal Building;
Use the Academy Street entrance.
The cost is $8 a person, with no admission charged for children under two years of age.
Adults must accompany children. The price for the performance is the same as it has been for 10 years.

Friday Nov 7 2014 6:30pm
PRINCETON FORRESTAL VILLAGE
Rt 1 Southbound (In the food court)
Princeton NJ
FREE

Saturday November 8 2014
Chris Whalen Book Release Party
FOXHOLE FATHERS (an awesome book about being a single dad)
Middletown Arts Center
36 Church St.
Middletown, NJ
Your families may enjoy this free event.
Olaf & Captain America Will Attend!
I am having a fathering book release party on 11/8/14 at The Middletown Arts Center. It will be filled with fun activities for
children and I thought that your congregation's children may enjoy it. Attendance is free.
All Families are welcome.
11am Face Painting, Balloon Artist!
12pm Olaf and Captain America!
1pm Kids' Concert with Mr. Ray!
Come and meet Middletown's Latest Author for Foxhole Father, The Field Guide for Fathers.
The facebook event page is here: LINK
I hope to see you there!

Saturday Nov 15 2014 9pm
PARENTS' DATE NITE OUT
Ray Andersen & Arne Wendt
Performing classic songs from the 60s - 90s!
McLoones Boathouse
Cherry Lane West Orange NJ
Right next to Turtle Back Zoo
F R E E !
D E C E M B E R
Sunday December 7th 1pm
Penn's Purchase
5861 York Rd, Lahaska PA 18931

Tuesday December 9 10am sharp
WEST WINDSOR LIBRARY
333 North Post Road
Princeton Junction, NJ 08550

For preschoolers.
Mr. Ray writes music which parents and children can enjoy together.
Singing about friendship, dinosaurs and rainbows
Mr. Ray's clever lyrics and witty melodies inspire the imagination and encourage play.
Known for his trademark eye catching colorful stickered guitar,
Mr. Ray is the most 'parent friendly' children's artist to date,
offering 'Music for the child in all of us'. Enjoy a great family music event!
Registration is required starting at 7am on the day of the show.
Seating is limited. Strollers to be parked in lobby area.

Sunday December 14th 12pm
PRINCETON MARKETFAIR Holiday Songs with mr. RAY!
3535 US Highway 1 Princeton NJ
(609) 452-7777 FREE!L I N K

Wednesday December 30th 11am
JCC Metrowest Maurice Levin Theatre
760 Northfield Avenue
West Orange, NJ 07052

Thursday December 31st 5PM
NEW YEAR'S EVE!!! FIRST NIGHT Maplewood/South Orange
5:00 PM to 10:00 PM
Columbia High School
Maplewood, NJ
mr. RAY performs 3 45-minute sets at 5, 6 & 7pm!
A tradition of a fun, community-oriented celebration to ring in the new year
with music, dance, food, activities and entertainment for all ages.
J A N U A R Y 2015
Saturday January 17th 2015 12:30pm
LIGHT OF DAY KIDS SHOW Benefitting Parkinson's Disease
starring
mr. RAY w/special guest Layonne Holmes and the Little Sunshine Kids
Yosi
Miss Sherri
Yoga for kids & face painting with Leslie Miller
Special guests to be announced…
Doors open at noon
Mcloones Supper Club
100 Ocean Ave
Asbury Park NJ