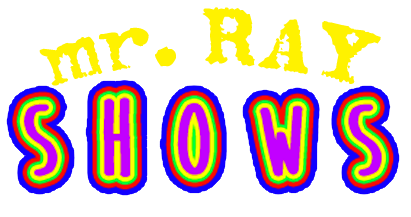 Friday Jan 6 2017 6:30pm
PRINCETON FORRESTAL VILLAGE
206 Rockingham Row, Princeton, NJ 08540

Sunday January 15th 2017 4pm
SNOWFLAKE SERIES
491 Middlesex Ave Metuchen NJ
Tix $5/person at the door
February 18 2017 12 - 5PM
KIDABALOO
Robert J Collins Arena @ Brookdale Community College
765 Newman Springs Road, Lincroft, New Jersey 07738
VIP meet & greet, and main stage Q&A session with Sean Ryan Fox – 'Jasper' on the hit Nickelodeon
TV series "Henry Danger". Meet and Greet photos by Gellman Images www.gellmanimages.com
mr. RAY performs at 2pm!
SO many cool events for kids scheduled for this event!
L I N K

Monday February 20 2017
New Jersey's Family Day Festival
Crossroads Theatre
7 Livingston Avenue
New Brunswick, New Jersey 08901 | (732) 545-8100
2 shows@ 12:30 & 2:30pm

Saturday March 4 2017
THE FEST FOR BEATLES FANS!
Hyatt Regency Jersey City
Located at 2 Exchange Pl in Jersey City, NJ
An all-Beatles set from mr. RAY's BEATLES4Kids!

Saturday APRIL 8, 2017 Two shows! 10:00AM & 12:00PM
State Theatre
15 Livingston Avenue
New Brunswick, NJ 08901
Milk & Cookies event
FREE! But you must reserve a seat! Ticket Office 732-246-7469
L I N K

Book mr. RAY for your Preschool/daycare center, elementary school assembly,
anti-bullying/respect assembly, library, park, theater or private event!
From Pre-k to 5th grade...
mrRAYbookings@gmail.com or call 732-887-4249
Join my email list! Thanks....
foxyform