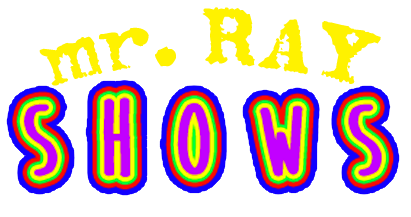 Friday July 1 6:30pm
PRINCETON FORRESTAL VILLAGE
Rt 1 Southbound to Rockingham Row (In the food court)
Princeton NJ
I'll be selling & signing copies of my 1st book for kids....FIND YOUR MUSIC! :-)
Free!

Saturday July 3 2016 5pm sharp
Highland Park Fireworks In The Park
Donaldson Park
Highland Park NJ
Rain date: July 10th

Monday 4th of July 2016
Milltown Borough Park
80 Violet Terrace
Milltown NJ, 08850
mr. RAY performs at 12:30
Parade kicks off at 10:00am. Opening ceremony at 12pm,
In addition to various activities at the park the participants can enjoy
free music, hot dogs and soda. Additional food
vendors with food available for purchase. Info: (732) 828-2100

Thursday July 14th 6:30pm
CARNIVALE ITALIANO
Route 130 and Apple Orchard Road,
North Brunswick NJ
FREE!

Friday 15th 2016 7:00 PM
WOODLOT PARK
124 New Road
South Brunswick NJ
FREE!
RAIN LOCATION:
Community Center, 124 New Rd. Monmouth Junction


PLEASE NOTE

There will be no Princeton Forrestal Village show in August, but I will return on September 2.... :-)

Saturday August 6th 2016 at 8pm
STATE THEATRE
15 Livingston Ave
New Brunswick NJ
After a near sold-out show in Red Bank, Bob Bandiera & Friends are
back to perform the compelling & beautiful music of DAVID BOWIE...
These are some of the most-treasured songs of my life, so it's an honor to be asked,
once again, to help celebrate music from the Starman....
Join my email list! Thanks....
foxyform