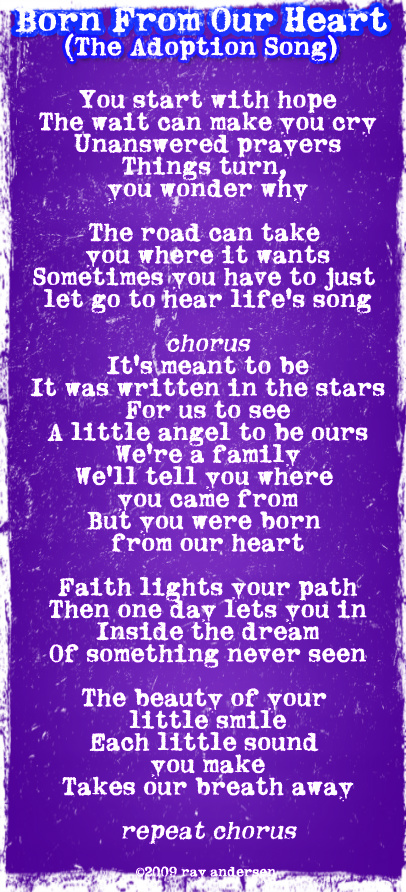 Hi! - I just wanted to thank you for writing a song about our family. It's so beautiful.
My daughter, (who we adopted at birth),
and I, listen pretty much exclusively to XM Kids/Kids Place Live.
The first time I heard your song I had to pull over because
I was crying so hard - it's sooo wonderful.
People who don't have adopted children can't possibly understand the intense love
we have for our kids. My daughter and I love
singing your song and even my husband,
who is pretty hard to get to like a song, sings it too.
We needed a song like that! The radio needs a song like that!
Thank you!
Nicole R
============================
"We are huge XM's Kids Place Live fans and I wanted to thank you for "Born From Our Heart".
It brings tears to my eyes every time I hear it.
We did not adopt our twins, they were the result of "donor eggs", being only 6 years-old,
it's too hard to explain it to them.
They do know that we had help from a Doctor and "another lady", but that's as far as we can go for now.
When they are a bit older, we'll be able to fully explain it to them.
We have told no one about their conception because we wanted them to know first.
Your beautiful song helps us "pave the way" and help them understand that it
doesn't matter how they got here, just that they are here. (And I'm getting teary
just thinking about your song while typing this!)
Wishing you huge continued success; we'll be looking for an upcoming concert we can attend.
Hopefully, that will be in the Rumpus Room!" Danica
============================
From the album, 'Welcome To The Music Room.'
As heard on
Sirius/XM
Available on iTunes & Amazon.com as a downloadable single.


©2009 music & lyrics by ray andersen